Real Research for a Real Interest in Science
The research experience offered by the Deep River Science Academy is unique in Canada and possibly the world.
The Deep River Science Academy's goal is to encourage high school students to pursue university studies and careers in science or engineering by showing them what scientific research and development is really like. The Whiteshell Campus, one of two Deep River Science Academy sites in Canada, is located in Pinawa in the eastern region of Manitoba.
An independent, non-profit private school/camp, the Academy offers a six week program to 20 high-school students between the ages of 15 and 18. Working in pairs, under the guidance of a university-level tutor and the supervision of a professional researcher, the students do not watch demonstration projects - they contribute to the real thing.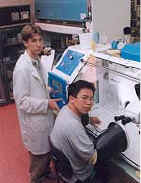 Students get hands-on experience with high-tech equipment, setting up and running their own experiments, gathering and analyzing data , and preparing written and oral reports. Their work earns them two high school credits and one post-secondary credit from Red River College in Winnipeg.
The six week camp session is embedded in a 16 week program of research during which the university students who are hired as tutors work with the participating professional scientists in preparing the research project for the students' arrival and closing off after the students' departure.
Research partners in 2000 of the Deep River Science Academy, Whiteshell Campus, include AECL-Whiteshell Laboratories, Manitoba Hydro, Simon Fraser University, Manitoba Conservation, ACSION Industries Incorporated, University of Manitoba and ECOMatters Inc. Research projects for the 2000 term include swimming performance of northern pike, walleye and smallmouth bass in relation to fishway and culvert passages, effects of the Pinawa Diversion Dam on the limnology and aquatic ecology of the Pinawa Channel, the effect of forest edges on insect communities, development of a wetland impact assessment biomonitor/bioassay protocol, and many other projects.
During the six week program, students are housed at the Wilderness Edge Retreat and Conference Center in semi-private rooms, with all meals provided. In addition to their research work, students have rowing and water-skiing clinics, hiking and canoe day trips.
A student's cost for the six week term is $3,700. This represents only a portion of the actual cost of the program, which is between $6,000 and $8,800 per student. The Academy seeks financial contributions from government agencies, charitable foundations and corporations to offset the costs of the program.
Many students are eligible for bursary assistance of up to $2,500. The Whiteshell Campus expects to give out $30,000 in bursary assistance for the 2000 term.
For more information, you can visit the Deep River Science Academy Whiteshell campus web site at http://www.granite.mb.ca/~drsa. The site includes a student application form for those interested in applying. You can also call the academy at (204) 753-8848 or e-mail them drsa@granite.mb.ca for more information.
The Deep River Science Academy is part of a national organization. The other campus is located in Deep River, Ontario.